2 - 9 September 2019 is Zero Waste Week
 As an active campaigner in reducing the amount of food and plastic waste ending up in landfill, InSinkErator is encouraging households to minimise edible food waste and source plastic alternatives to support Zero Waste Week. The 11th annual Zero Waste Week runs from the 2nd to the 7th September 2019.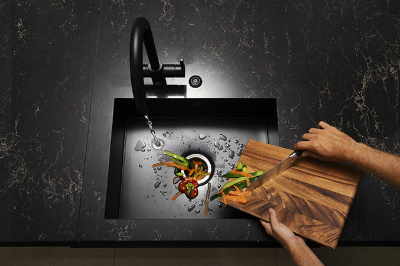 According to WRAP (Waste & Resources Action Programme), out of the annual seven million tonnes of food and drink waste from UK households five million tonnes is still edible*. 
The edible food wasted would fill 40 million standard wheelie bins and is equates to around £70 a month for the average family*. Rotting food waste emits harmful gases that cause further damage to the environment. WRAP research states the carbon associated with the five million tonnes of wasted edible food is equivalent to that generated by 25 per cent of the cars on UK roads*.
An InSinkErator® food waste disposer is an ideal alternative for diverting food waste from ending up in landfill. Food waste is ground into minute-sized particles, thanks to the innovative system of stainless steel grinding rings. The food waste is then dispatched and simply rinsed away safely down the drain, through the standard plumbing. As the global leader and the inventor of food waste disposers, InSinkErator® has a range of models to suit every kitchen, lifestyle and budget.