KITCHENAID LAUNCHES NEW COOKERY SCHOOL

Cookery classes will now be held at the KitchenAid London Experience Store. Consumers can join Chef Lisa Marley to experience KitchenAid's premium appliances and learn a variety of cooking techniques, to create delicious dishes that can be made at home, time and time again.
A variety of cookery classes are scheduled over the coming months, from a plant-based recipes class, to a chocolate making workshop. Coming soon is a pasta and pizza masterclass, which will be held on 15th May 2019. Attendees will develop their cooking skills, using KitchenAid appliances, discovering how to make pasta and pizza dough from scratch.
Most classes give consumers a chance to get hands-on with the KitchenAid Twelix Artisan Oven (KOASP 60602), which offers a multitude of features, promising excellent cooking results, including 11 professional functions for bakery and pastry items.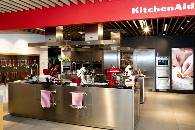 Furthermore, some classes give consumers the chance to cook using the sous-vide method with the KitchenAid Chef Touch. Sous-vide is a delicate, high-quality, low-temperature cooking method, which many consumers may not have experienced before. Experiencing the benefits of sous-vide first-hand will give attendees the perfect insight into professional home cooking, and how they can emulate top chefs in their own homes.
Lee Collett, Channel Controller, KitchenAid, says: "The KitchenAid Cookery School gives consumers a unique opportunity to get to know KitchenAid appliances. The KitchenAid consumer is passionate about cooking and our new cookery classes allow attendees to learn the best techniques from a professional chef, to take their expertise and creativity in the kitchen to the next level."
For more information on the KitchenAid Cookery School and to learn about any specific classes, please visit the website at: www.kitchenaidlondon.co.uk