WHIRLPOOL REFRESHES ABSOLUTE BUILT-IN COOKING COLLECTION
Whirlpool has refreshed its Absolute range of built-in cooking appliances, which has benefitted from a design update, to now feature a contemporary style in addition to superb functionality.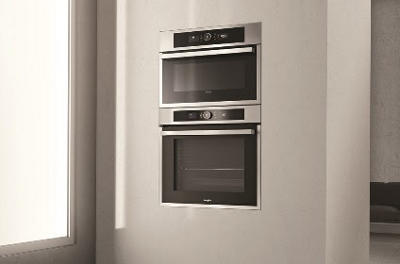 The updated Absolute built-in cooking collection includes multi-function ovens, combination microwave ovens, cooker hoods and a coffee machine (ACE 010/IX) for a completely coordinated look throughout the kitchen. The design of the Absolute collection incorporates a smart central control dial with striking white LEDs and a matching digital display control panel*.
The stylish Whirlpool Absolute built-in cooking appliances are designed to deliver superior results in the most efficient way, by using innovative 6TH SENSE® technology to do all the thinking. By continuously sensing, adapting and controlling the appliance, Whirlpool's 6TH SENSE® technology ensures uncompromising results with minimal effort and resource efficiency.
The Whirlpool Absolute single multi-function oven (AKZ9 6270 IX) benefits from pre-set, automatic cooking programmes, a fast pre-heating function and 6TH SENSE® technology for intuitive ease of use, meaning the consumer can accomplish any cooking task with ease. The oven also benefits from pyrolytic cleaning technology, which effectively reduces all food residues to ash, and the physical effort required to keep the oven in immaculate condition for its lifetime.  
Sinead O'Brien, Brand Marketing Executive, Whirlpool, says: "Sleek and minimalist design is proving very popular in modern kitchens, which we believe will be a continuing trend. Appliances must match and align perfectly, from the logo to the shut-lines and to the controls. Built-in appliances offer incredible functionality, while producing exceptional results. The Whirlpool Absolute range of built-in cooking appliances offers this perfect synergy; with stylish design and superb functionality.

"At Whirlpool, we have a genuine passion for beauty and superior craftsmanship, providing consumers with the next level of user experience. Our leading edge design perfectly complements our state-of-the-art technology and matches the consumers' desire for contemporary, elegant home environments."