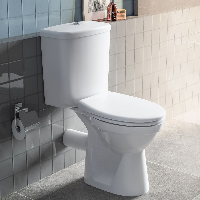 Bidet Toilet (Washlet)

 Combining a bidet and a toilet in one the Washlet normally is of Wall Hung variety. Very useful for people with disabilities but the the washlet toilet is for everyone and offers many advantages.  Not only is it designed for easy cleaning but it offers simple personal cleaning with the integrated water jet and warm air drier.  The need for toilet tissue is eliminated! 

Normally the pan is mounted on a steel frame with an integrated cistern and uses a flush plate.  This can be built into furniture of concealed in a stud wall, the flush plate taking care of access and maintenance issues.
  
 
 
 
 

    

 

 
 
 
 
   

 

 
 
 
 
 
 
  
 
 

 

The most common flushing style is the flush plate in conjunction with a dedicated wall mount frame.

For installation an electrical supply is required in addition to the plumbing.

 

 

As with any wall hung toilet installation access to the mechanism for maintenance needs to be considered.  Fail to provide an easy access to the cistern or flushing mechanism and your whole installation may need to be taken apart if any repairs or adjustments are ever needed.

The simple solution is to mount your WH pan on a dedicated metal frame/cistern combination and the large flush plate allows access if required.